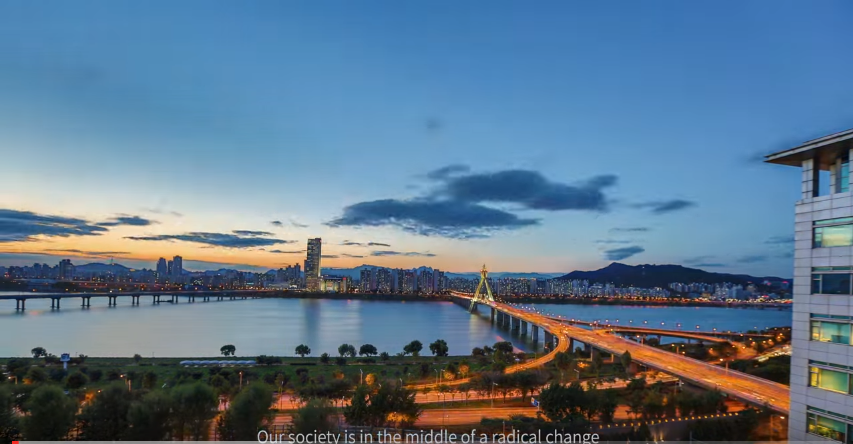 Our society is in the middle of a radical change.
The smartphone has brought the computer in the palm of our hands,
and online financial services no longer has us waiting in line.
And our two hands are given freedom by automated vehicles,
3D printing has revolutionized the manufacturing industry,
Computers which automated simple labor as well as specialized knowledge processing can now even understand emotion.
Behind all of these remarkable changes, lies software.
Software raises the quality of an individual's life,
Software becomes core to the competitiveness of corporations and nations,
A society where software not only brings ideas and imagination into realization, but also solves problems,
A society that changes day by day with creativity and innovation,
That is what software-oriented society is.
The world is already transforming into a software-oriented society.
Software has become the center of innovation, growth, and value creation.
Corporations with software expertise lead the market and it is these corporations that lead our future society. Thousands of companies are created through software are these companies create millions of jobs.
However in a software-oriented society, simple jobs are replaced with computers.
Also, because we rely on software based social infrastructure, the security of that software is crucial.
In order for our nation's sustain growth, it is urgent for us to secure the competitiveness of software-based industry. We need to prepare in a national level by spreading the importance of software, nurturing the talent, and supporting the growth of the software industry.
The Software Policy and Research Institute is a national research institute established to address these goals.
In 2013, a Special Act for information and communication promotion and convergence vitalization was enacted.
Prof. Kim Jin Hyung was appointed as a head of the Software Policy and Research Institute in December, 2013
and the Institute operated for the first time on March 31st 2014.
The aim of the Software Policy and Research Institute is
Firstly, reinforcing the competitiveness of industries and society via software-based convergence and diffusion
Secondly, building a sound ecosystem for the software industry.
Thirdly, spreading software DNA and popularizing digital technology.
Fourthly, presenting cross-ministry policies by conducting short- to long-term research.
Fifthly, building a hub for knowledge communities through open research.
The changes caused by software-oriented society is unlike any other social changes.
No one has ever experienced it, nor can predict its outcome.
However, someone must monitor these changes and show the right path.
We need to nurture a software-friendly culture through openness, sharing and participation.
We have to form a society where new ideas are respected and fair competition is possible.
We must provide a pleasant environment where innovative technology and great talents can be fostered..
For these reasons, the Software Policy and Research Institute will lead the way by constantly conducting research and presenting policies.
The Think Tank of a software-oriented society!
This is the mission of the Software Policy and Research Institute.